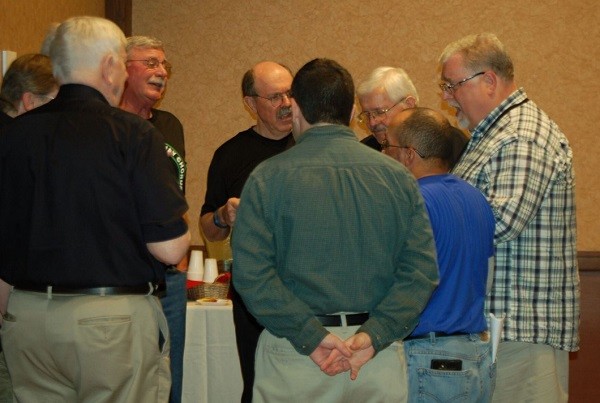 Gateway enjoys the moment!
Gateway Members singing the night away after rehearsal.  Jim Fry, Dick Baker, Kent Vanderkolk and Jay Berry try their voices together as other Gateway members listen to the fun. (Picture courtesy of David Howard.)
Gateway did it again.  As a family, we descended on the lodge at Clifty Falls State Park in Indiana and made the rafters ring!  We sang.  We ate.  We showed off our new roll on/roll off riser carts.  We shared what the chorus means in our lives.  The joy and friendship that we shared with each other made the weekend worthwhile.  And THEN……then we sang some more and ate some more. Pizza and Beer and Singing! What more can we ask of each other?
Wait till you see what he have in store for our annual show on April 29th!
A group of Gateway guys in a rousing game of musical chairs. (Picture courtesy of Brandon Schwartz.)