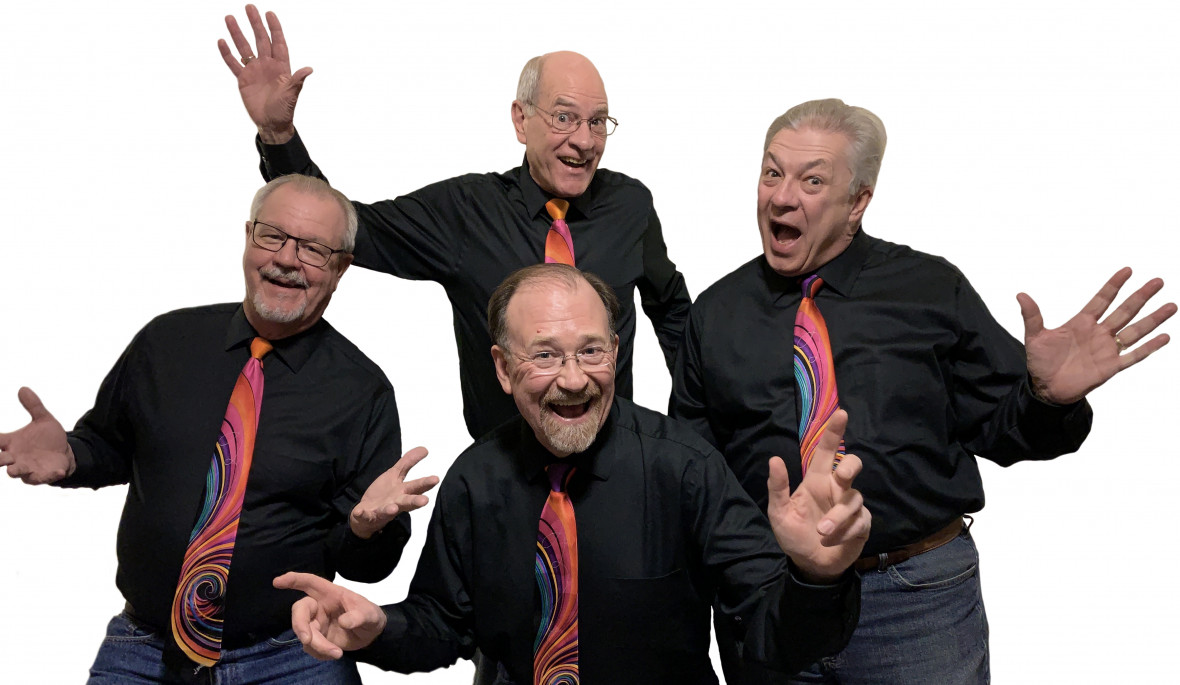 Kaleidoscope
This foursome enjoys entertaining our listeners as well as each other with a selection of tunes from the Beatles, the Righteous Brothers, Neil Sedaka, Simon & Garfunkel, and various other artists.  Experience has shown that audience members enjoy the numbers and often sing along softly to themselves.  Now, let's introduce the quartet…
Our lead, Marty Butherus, hails from Misery. Whoops, that's Missouri, by way of St. Louis before settling on the east side of Cincinnati. His claim to fame is that he has a daughter who worked in the White House with an earlier administration.  On the very rare occasion that we find him not singing on the high side of the pitch we shoosh him outside to play with his drone hoping that he'll get the hint watching something high in the sky. 
Our tenor, Perry Washburn, was lucky enough to meet a smart Cincinnati gal and marry her. Years later she returned to her hometown to become editor of the Enquirer and lucky for us brought Perry along with her (although we can't understand her decision knowing Perry).  Perry enjoys singing the high parts almost as much as he enjoys build houses in various overseas countries with Habitat for Humanity.
Our baritone, Steve Gasparec, is a "westsider" who has lived and worked (well he claims he works) in Cincinnati for years after arriving here from Pennsylvania. Steve has a passion for fishing.  The other three members of the quartet just wish that he would do all his fishing in a pond instead of fishing for the right note to ring the chords.
Our bass, David Beaudry, comes to Cincinnati from upstate New York. He is the really smart member of the quartet and this is why. He wrote the description of the other three guys and didn't let them proof it.