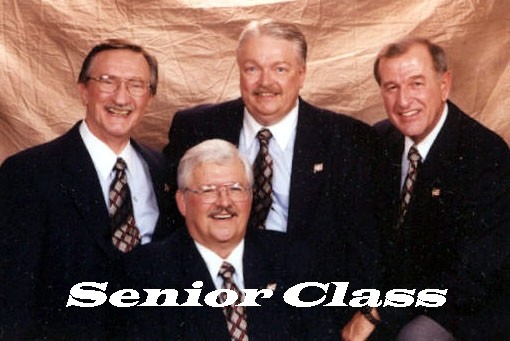 Senior Class
The SENIOR CLASS quartet organized and began rehearsals in July 2001. Divisional and District Contests followed with the quartet winning the title of 'Johnny Appleseed District Senior Champions' in Lima, O. The members have over 135 years of combined singing experience. They represent a wide variety of backgrounds and interests. The quartet has represented the District at International Seniors Competitions in Albuquerque, Biloxi and Jacksonville. All are very active in their respective chapters.
'From The Top':
DICK LENTZ, singing tenor, is a true 'card' of this quartet having worked with Hallmark Greetings for over 40 years. Dick started barbershopping in high school and joined the society in 1961. Now retired (but available for part-time work that doesn't interfere with his hobbies), he enjoys golf, tennis, bridge with wife Carole and visiting his grandchildren.
DR. BRIAN BARFORD, singing lead, is a retired chemist from P & G. Besides holding many patents for make-up and other beauty products, he found time to become a certified singing category judge, is assistant director of the Southern Gateway Chorus (multiple District and International Champions) and coaches many society groups. He and wife, Jean, are proud parents and grandparents. They reside in Cincinnati.
CARL 'WOODY' WOODROW, singing Baritone, is Music Director of the Middletown Razor's Edge Chorus. Retired from a local school system, he now spends free time singing with the Southern Gateway Chorus as well. As a self-described "grizzled veteran" of 30 years of quartetting (including a District Champ and International competitor), he still finds time to enjoy ringing chords with Senior Class. He and wife, Sharon, reside in Cincinnati and are proud parents and grandparents.
DICK BAKER, singing Bass, is Music Director of Piqua's The Melody Men Chorus. Dick is employed as a psychiatric community support professional for a community mental health clinic. Also a District Champion and International Quartet competitor, Dick has been a barbershopper for over 33 years. He still has time to enjoy his children and grandchildren with wife, Darlene. They reside in Greenville.
For more information or to book the quartet, contact:
Brian Barford
8002 Quail Hollow Ct.
West Chester, OH 45069
Tel: (513) 777-9364
Email: Brian Barford